so after two long and painful weeks, i am back online.  i also now hate virgin media with the intensity of a thousand suns, but that's another story.
how's everything been going in the interim?  well the move has turned into one of the worst-planned-and-executed operations since napoleon's waterloo.  however we're now fully here, sans sofa and a few other essential items.  up until a few days ago, the place was chaos – thanks to the determined efforts of j, it is now a slightly more refined chaos. here's a peek.
the kitchen:

the lounge (and air mattress we're sitting on in lieu of a couch)

the hideous orange hallway (why??!)

the peculiar toilet/utility room (i *hate* when they do stuff like this, in a effort to appeal to sharers)

the spare bedroom, cute husband (and icky drapes)

the "master" bedroom with soon-to-be-replaced velvet curtains

the bathroom

the decked patio

the in-need-of-overhaul garden

still needs a lot of work and cleaning.
i'm absolutely run down, falling apart at the seams exhausted.  in addition to the move and between-two-apartments limbo, i've been working like crazy (late even! and i never stay late!), and running like mad.  i'm now rather worried, as i'm suffering some sort of painful hip muscle strain and pretty sure i've got a stress fracture happening in my foot (which i'm ignoring).  only 2 weeks until the marathon, and i'd be devastated if i couldn't finish it, so i'm stressing – trying to rest *and* maintain my conditioning.  i just feel run into the ground, like a could take a long nap at any given point during the day.
so i've been coming home late, running, eating and falling into bed.  then last weekend, a girls weekend in brighton with my heavily pregnant friend tonia…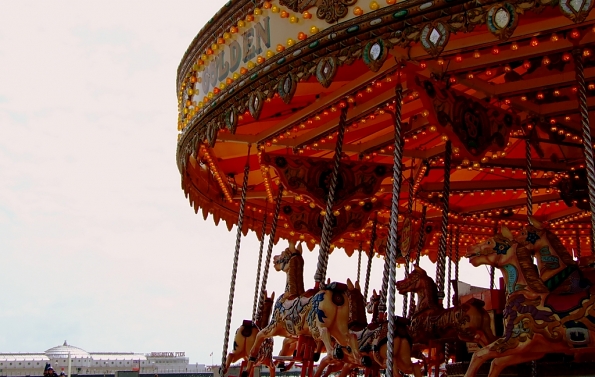 and j's birthday on the sunday…
… the sunday which also happened to be mother's day in the u.s., and which i missed.  guilt.  also, a sad indicator of how reliant i am on those little email pop-up reminders and other internet-based cues, none of which i had access to. also a strong indicator of how very fried i've been.  so happy belated to my mum and my two sisters (one of which is due with her second little boy quite soon!) and my stepmom  i'm so sorry i missed telling you what fantastic mothers you've been, and how much i love you all.
so that's what's been up with me… what's been up with all of you?
7 Comments »